While we understand the desire to 'match' our digitally printed graphics to the machine's color, this all depends on the specifics. However, we are confident you won't be disappointed, and to be sure, order a color chart for physical comparison and peace of mind.
Our products are designed to complement; we pride ourselves in creating designs that utilize color in a way that enhances or improves the original product.
---
Due to the high-intensity colors used to paint and powder coat in current manufacturing trends, SCS does NOT guarantee exact color matching as stated in our Return Policy.
When deciding to wrap a vehicle, it's essential to keep in mind everything affects how color is seen and perceived. The printer, the ink, color profiles, laminate, outdoor versus indoor light, and even the brain alter how one person might perceive a color. As such, we do not guarantee a color match based on your computer monitor or device screen. If color is critical to your order, we can produce small print samples for physical inspection and approval.
Color Chart?
We do not guarantee a color match on your computer monitor. Your printed product will be printed in a CMYK color space. Your computer monitor is in the RGB color space. Even if your computer monitor is calibrated, it will not 100% accurately represent the color of your printed product.
If color is critical to your job, for additional charges, we can produce a small print sample proof or send our pre-approved color chart. Color corrections can then be made and another print sample shipped for final approval.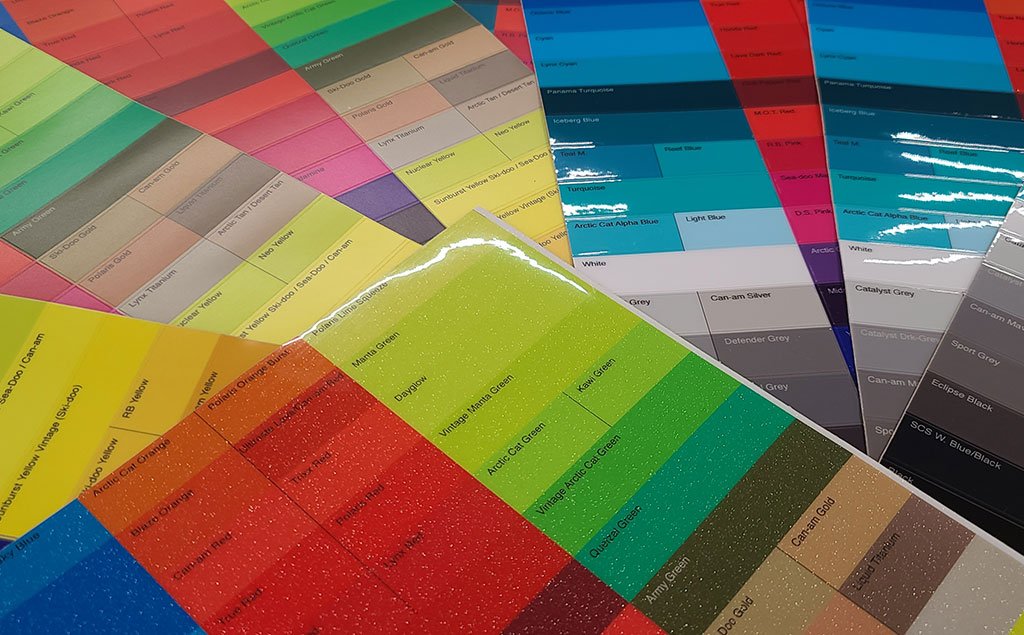 Why Not?
One of the reasons we don't guarantee color matching is color is perceived. Our eyes see something (the sky, for example), and data sent from our eyes to our brains tells us it's a certain color (blue). Objects reflect light in different combinations of wavelengths. Our brains pick up on those wavelength combinations and translate them into the phenomenon we call color.
Everything in the material world alterns how colors are perceived including outdoor vs. indoor light, sunny vs. overcast and even individual preference can alter how one person might perceive a color to another. For that reason, we rely heavily on physical colorchip approval for color sensitive jobs. Once a color is picked and approved, that's that. We can't make any adjustments over email, you have to pick from a color we know our printers can output and your eyes like.